KernWi-Fi Available at 214 Pulteney Street SA
New and existing tenants of 214 Pulteney Street, Adelaide, SA 5000 can now look forward to high-speed internet, with KernWi-Fi readily available for connection on all floors.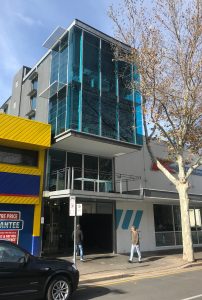 The city building, owned by JD & DM Kennedy Property Pty Ltd, houses commercial offices.
John Kennedy, of JD & DM Kennedy, says he began looking for a new Wi-Fi provider after having a dissatisfied tenant who was considering leaving the building.
"I was looking for a solution for the building rather than specifically the current tenant. That way I could hopefully satisfy the current tenants needs (and maybe that would influence them to extend their lease) and if they decided to go, then the next tenant will not have the same problems with internet access," Mr Kennedy said.
Mr Kennedy said he had spoken to a few internet providers before KernWi-Fi, however he was unsuccessful in finding a good fit for his request.
"KernWi-Fi understood my situation and were willing and able to provide a solution that fit my circumstances."
The main tenant of 214 Pulteney Street, Brighter, are national providers of advertising and graphic design solutions, with online communication an essential part of their business.
Mr Kennedy says many of Brighter's clients are in the eastern states which requires the online transmission of large graphic files. With slow internet, Mr Kennedy says frustration levels were becoming very high.
"They were having huge problems with very slow ADSL internet and often even had to resort to posting or delivering USB memory sticks to get files to clients," Mr Kennedy said.
Sophie Cook, an employee at Brighter, says working in the graphics industry means she is often sending large files which requires fast internet.
Ms Cook says prior to connecting to KernWi-Fi, her office was struggling with 1-2mbps upload and download speeds.
"Our internet was so slow, it was virtually unworkable," Ms Cook said.
"The internet now functions as one would expect it to in this day and age, which means we can send files at a good speed and get on with the next task without holding up our computers."
Ms Cook says the staff from KernWi-Fi have been prompt, professional, knowledgeable and extremely accommodating.
"We are so, so happy and incredibly appreciative. It has made a big difference to our day to day work," Ms Cook said.
Phil Kern, managing director of KernWi-Fi, says Wi-Fi is now available on all floors of 214 Pulteney Street.
"We now have all levels of the building catered for, giving existing tenants (one has already connected) and future tenants the opportunity to connect to KernWi-Fi," Mr Kern said.
John Kennedy says KernWi-Fi were clear in their communication about processes and timelines from the beginning.
"KernWi-Fi were warm, relaxed, easy communicators while maintaining a professional attention to the project," Mr Kennedy said.
"They were also considerate of the tenant with regard to install and realistic about the need to (in this particular situation) do the job when the office was not occupied."
Mr Kennedy says he would absolutely work with KernWi-Fi again, given the fast response time and efficient installation and activation.
"The staff from KernWi-Fi are great people with flexible solutions and are confident in their understanding of the processes and what needs to be done," Mr Kennedy said.
Our KernHotSpot / KernWi-Fi Network connects 214 Pulteney Street, Adelaide, SA 5000 via our Wi-Fi gateway.
KernWi-Fi also operate public WiFi KernHotSpot's at many locations. Check out our Wi-Fi KernHotSpot coverage. Your customers can use our Free Wi-Fi while at 214 Pulteney Street, Adelaide, SA 5000.
For more information on how to get your customers connected to KernHotSpot call: 08-7100-5432
Chat to us live online or complete an enquiry to discuss your requirement.
Shanisse Edson
Journalist – KernWi-Fi Pty Ltd / KernHotSpot
Contacts:
Phil Kern
Managing Director of KernWi-Fi
John Kennedy
JD & DM Kennedy Property Pty Ltd
Sophie Cook
Brighter
214 Pulteney Street Adelaide building city KernHotSpot KernWi-Fi South Australia