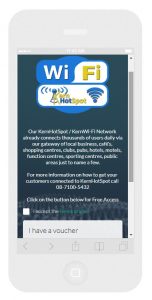 Winterfest 2018 Port Adelaide
Our KernHotSpot / KernWi-Fi Network connects Winterfest 2018 Port Adelaide via our Wi-Fi gateway.
KernWi-Fi operate public WiFi KernHotSpot's at many locations. Check out our Wi-Fi KernHotSpot coverage and enjoy Free Wi-Fi while at Wintefest 2018 Port Adelaide
For more information on how to get your customers connected to KernHotSpot call: 08-7100-5432
Chat to us live online or complete an enquiry to discuss your requirement.
We are excited to announce our involvement with Renewal SA for Winterfest for 2018!
Keep your eyes peeled for your chance to WIN free passes for the event!
This year Winterfest will be bigger and better than ever, running from the 5th-22nd July, to include all weekends in the July 2018 school holidays.
The weather will be cold but that won't stop us in the Port. Pull out your woollies and prepare for the next instalement of winter wonder, enjoying FREE WIFI for the duration of the event!
Logon to KernWi-Fi while at the event using "Winterfest FREE KernWi-Fi. "
Snowballing into historic Hart's Mill you'll once again find our very own ice-skating rink, winter markets, live music, kid's activities, workshops and more delicious winter food and drink than you can poke a stick at PLUS an even bigger selection of shows and acts.
Book tickets to see a comedy show, live music act or workshop, or enjoy a number of FREE activities, including the snow lounge and markets. Enjoy a range of food options while your there, with a number of cuisines and desserts on offer – including: Greek, Italian, Serbian, Spanish, Indian, German, Potatoes, Fish n Chips, Healthy Hummus, Gourmet Bakery, Vegan Treats, Crepes and Donuts.
Winterfest are also running three charity events, including the Winterfest Run, Winterfest Plunge and Winterfest Bark. You can read all about these events and how to get involved on the official Winterfest website. 
The ice skating rink is open daily from 10am, with hour long sessions running all day. With plenty of food and drink options, Winterfest is a one-stop shop for school holiday fun. Don't forget to logon to KernWi-Fi's FREE Wi-Fi while your there.
<
How can KernHotSpot help you?
Your customers expect a reliable internet connection now more than ever, especially in large event halls or shopping malls where 3G/4G coverage can be restricted or unreliable.
Our KernHotSpot / KernWi-Fi Network already connects thousands of users daily via our gateway of local business, café's, shopping centres, clubs, pubs, hotels, motels, function centres, sporting centres, public areas just to name a few.
Our various services and products include: Wi-Fi networks, Marketing, Analytics and Mesh Networking.
Network Consulting Services
Your venue might already have internet or Wi-Fi, but does it have the correct internet or Wi-Fi to meet your needs? We can help you assess your venue's network infrastructure.
Network Design and Deployment
We will work with you in designing and deploying your network to meet your needs, regardless of the size of the event or venue. We take everything into consideration including, multiple secure isolated network points for your staff, electronic devices such as EFTPOS and guest access. Have your own branded splash page. Offer user's free time or paid time usage or a combination.
Detailed Reporting
We provide live reporting to show you how many devices and clients are connected, types of devices connected, the most popular areas for connection within the venue and more.
Dedicated Bandwidth
Dedicated bandwidth to run multiple access points without performance degradation.
Onsite Support
We provide on-site support staff during your event.
Security
We provide secure networks for total isolation between your corporate network and guest network.
OUR CLIENTS
We work with companies of all sizes. Each customer, no matter how big or small, is of equal importance to us.