Glen Ewin Estate FREE Wi-Fi
Situated in the picturesque Adelaide Hills, Glen Ewin Estate specialises in functions for all occasions, catering for up to 400 guests.  
Guests at Glen Ewin Estate can enjoy free Wi-Fi via KernHotSpot coverage.  
Free Wi-Fi connection allows guests to upload photos straight to social media, boasting the beautiful scenery Glen Ewin Estate has to offer, and creating lasting memories of their event or function.   
This is excellent for South Australian tourism, giving guests the opportunity to showcase the stunning landscape and our world-renowned wine region. 
Willa Wauchope, of Glen Ewin Estate, says KernWi-Fi have done an excellent job meeting in meeting their demands in a complex landscape.  
"KernWi-Fi has helped Glen Ewin Estate develop a property wide network in difficult hilly conditions," Ms Wauchope said. 
"This enables us hold successful events like the recent Gin Fest and allows our guests to be on social media throughout the event." 
Phil Kern, Business Development Manager at KernWi-Fi, says staff from Glen Ewin Estate approached him due to the poor internet and phone services they were dealing with at the time. 
"Glen Ewin Estate faced outages of up to a week at a time, which was greatly hindering their business."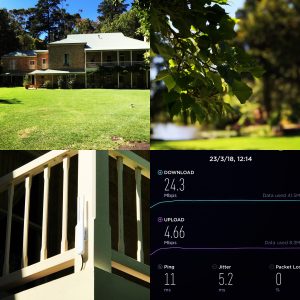 "At that stage they had a very simple and slow internet service," Mr Kern said. 
Mr Kern said says due to the nature of the terrain, planning was key to maintain the stunning atmosphere, while also installing high quality equipment for fast internet.  
"We had to plan and build a suitable network to cater for the property, while aesthetically blending our Wi-Fi equipment into the environment." 
"The Estate is used for weddings and functions, so we had to blend in without our equipment being visible," Mr Kern said.  
Mr Kern says KernWi-Fi and Glen Ewin Estate have been partnered for two years now, with a successful network making business easier for staff at Glen Ewin Estate.  
"We have greatly expanded their network to allow full internet access to their entire estate."   
"Their network can now cater for more than 50 staff and hundreds of guests at any one time, something that could never be achieved with their original service," Mr Kern said.  
Ms Wauchope and Mr Kern both agree that the staff at Glen Ewin Estate and KernWi-Fi have a great working relationship, resulting in a successful partnership. 
"Thank you to Phil Kern and his staff for your help with our network and its implementation, it's a good partnership," Ms Wauchope said.  
KernWi-Fi operate public WiFi KernHotSpot's at many locations. Check out our KernHotSpot  coverage and enjoy  Free Wi-Fi while at  Glen Ewin Estate.
For more information on how to get your customers connected to  KernHotSpot  call:  08-7100-5432.
Chat to us live online  or complete an  enquiry to discuss your requirement.
Shanisse Edson: Journalist – KernWi-Fi Pty Ltd / KernHotSpot
e: shanisse.edson@kernwi-fi.com.au
Contacts:
Phil Kern – KernWi-Fi Pty Ltd / KernHotSpot
p: 7100-5432
Willa Wauchope: Glen Ewin Estate
e: willa@glenewinestate.com.au
How can KernHotSpot help you?
Your customers expect a reliable internet connection now more than ever, especially in large event halls or shopping malls where 3G/4G coverage can be restricted or unreliable.
Our KernHotSpot / KernWi-Fi Network already connects thousands of users daily via our gateway of local business, café's, shopping centres, clubs, pubs, hotels, motels, function centres, sporting centres, public areas just to name a few.
Our various services and products include: Wi-Fi networks, Marketing, Analytics and Mesh Networking.
Network Consulting Services
Your venue might already have internet or Wi-Fi, but does it have the correct internet or Wi-Fi to meet your needs? We can help you assess your venue's network infrastructure.
Network Design and Deployment
We will work with you in designing and deploying your network to meet your needs, regardless of the size of the event or venue. We take everything into consideration including, multiple secure isolated network points for your staff, electronic devices such as EFTPOS and guest access. Have your own branded splash page. Offer user's free time or paid time usage or a combination.
Detailed Reporting
We provide live reporting to show you how many devices and clients are connected, types of devices connected, the most popular areas for connection within the venue and more.
Dedicated Bandwidth
Dedicated bandwidth to run multiple access points without performance degradation.
Onsite Support
We provide on-site support staff during your event.
Security
We provide secure networks for total isolation between your corporate network and guest network.
OUR CLIENTS
We work with companies of all sizes. Each customer, no matter how big or small, is of equal importance to us.