Parafield Tower Now Available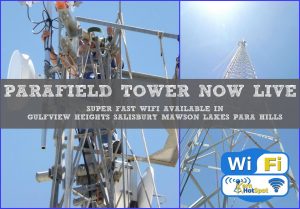 Parafield Tower Now Available which means locations in Gulfview Heights, Salisbury, Mawson Lakes, Para Hills and surrounding suburbs can now connect to Super-Fast KernWi-Fi.
KernWi-Fi offers a wide range of different Wireless Home Internet and Business Plans depending on your household requirements. We know that every home is different. We know it's very important to get the right level for your home.
This being said we can cater for high-end users that have 4 Netflix subscriptions, online gaming and so on, all the way down to just needing enough download to check your emails and news articles.
You can't wait for NBN to bring you the high-speed internet you deserve.
Thanks to the KernWi-Fi growing network, you won't have to.
At KernWi-Fi we supply quality high-speed broadband.
While the others promise, we deliver.
Book a site survey with us today so we can evaluate your home or business.
No phone line necessary – Contact us now and enjoy super fast and reliable Wi-Fi for your home. Check out our Wireless Home Internet and Business Plans.
Like our Facebook page to see where we are rolling out Wi-Fi next throughout #Adelaide &#SouthAustralia.