Adelaide Zoo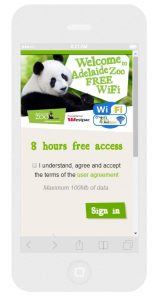 Adelaide Zoo
Our KernHotSpot / KernWi-Fi Network connects The Adelaide Zoo via our Wi-Fi gateway.
KernWi-Fi operate public WiFi KernHotSpot's at many locations. Check out our Wi-Fi KernHotSpot coverage and enjoy Free Wi-Fi while at The Adelaide Zoo.
For more information on how to get your customers connected to KernHotSpot call: 08-7100-5432
Chat to us live online or complete an enquiry to discuss your requirement.
Being an oasis in the city makes Adelaide Zoo extra special so we always envisioned workers, students, members and visitors would be able to immerse themselves in the zoo while also having great WiFi access.  However, this was always a big task and with even bigger challenges.
Two years ago, using our existing infrastructure, we trialled the capabilities of a WiFi system at the zoo. We quickly came to realise that despite our ambitious ideas the equipment we required proved a little too expensive for us to make the investment needed. Our vision for WiFi accessible zoos was then brought back to life nine months ago when Phil Kern, from KernWi-Fi, approached us with a keen interest in assisting to establishing this.
Following a comprehensive assessment of potential WiFi access, which clearly identified the required upgrades to our existing infrastructure, KernWi-Fi was brought in to assist with the roll out and their support since has proved truly invaluable.  It was initially estimated that stage one, the Adelaide Zoo front entrance precinct, would take one year to complete so we were over the moon when it was completed this January in just two months!  At this rate, we're confident that we'll be able to have the roll out for Adelaide Zoo completed in one year.  It's already proved popular, with visitors making the most of our many access points ranging from the front entrance, including the cafes, shops and the rotunda through to Minchin House. It's a great chance for visitors to jump online and check out the latest information about our animals and what's on, or share their experience on social media.
This exciting advancement doesn't stop at Adelaide Zoo, with testing already underway at Monarto Zoo.  Given the terrain, it's certainly a challenging site, however, we're also making great progress and are on track to have some access points available there too within the next six months.
KernWi-Fi has been an amazing asset to the team and the progress made with the project is a testament to Phil's incredible determination. The partnership between KernWi-Fi and Zoos SA will certainly see us continue to deliver great things for our visitors.
Ashlen Naicker 
ICT Manager
KernHotSpot Wi-Fi – Adelaide Zoo
How can KernHotSpot help you?
Your customers expect a reliable internet connection now more than ever, especially in large event halls or shopping malls where 3G/4G coverage can be restricted or unreliable.
Our KernHotSpot / KernWi-Fi Network already connects thousands of users daily via our gateway of local business, café's, shopping centres, clubs, pubs, hotels, motels, function centres, sporting centres, public areas just to name a few.
Our various services and products include: Wi-Fi networks, Marketing, Analytics and Mesh Networking.