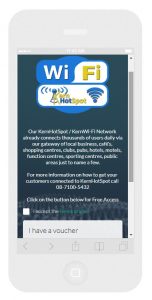 Cafe De Vilis Blair Athol
Our KernHotSpot / KernWi-Fi Network connects Cafe De Vilis Blair Athol via our Wi-Fi gateway.
KernWi-Fi operate public WiFi KernHotSpot's at many locations. Check out our Wi-Fi KernHotSpot coverage
and enjoy Free Wi-Fi while at Cafe De Vilis Blair Athol.
For more information on how to get your customers connected to KernHotSpot call: 08-7100-5432
Chat to us live online or complete an enquiry to discuss your requirement.
How can KernHotSpot help you?
Your customers expect a reliable internet connection now more than ever, especially in large event halls or shopping malls where 3G/4G coverage can be restricted or unreliable.
Our KernHotSpot / KernWi-Fi Network already connects thousands of users daily via our gateway of local business, café's, shopping centres, clubs, pubs, hotels, motels, function centres, sporting centres, public areas just to name a few.
Our various services and products include: Wi-Fi networks, Marketing, Analytics and Mesh Networking.
Network Consulting Services
Your venue might already have internet or Wi-Fi, but does it have the correct internet or Wi-Fi to meet your needs? We can help you assess your venue's network infrastructure.
Network Design and Deployment
We will work with you in designing and deploying your network to meet your needs, regardless of the size of the event or venue. We take everything into consideration including, multiple secure isolated network points for your staff, electronic devices such as EFTPOS and guest access. Have your own branded splash page. Offer user's free time or paid time usage or a combination.
Detailed Reporting
We provide live reporting to show you how many devices and clients are connected, types of devices connected, the most popular areas for connection within the venue and more.
Dedicated Bandwidth
Dedicated bandwidth to run multiple access points without performance degradation.
Onsite Support
We provide on-site support staff during your event.
Security
We provide secure networks for total isolation between your corporate network and guest network.
OUR CLIENTS
We work with companies of all sizes. Each customer, no matter how big or small, is of equal importance to us.