Adelaide Zoo Interactive App: FREE access with KernWi-Fi
With the assistance of KernWi-Fi, Adelaide Zoo have launched their interactive app, providing zoo goers with more resources for tourism and education.
Elaine Bensted, Zoos SA Chief Executive, says the app provides zoo goers with additional information, including specialised talks recorded by zookeepers to give further insight into the animals directly in front of them.
"In 2016, Adelaide Zoo became the first Australian zoo to use ibeacon technology to provide location-specific information about the zoo, our animals and conservation work through an app."
"iBeacon technology provides location-specific content to visitors through the use of Bluetooth technology via 65 'beacons' distributed throughout the Adelaide Zoo site," Ms Bensted said.
Given that school groups so frequently visit the zoo, the app is a valuable addition to learning on excursions. Phil Kern, managing director of KernWi-Fi, says working with the zoo to provide Wi-Fi for their new app has been important for education.
"Our Free Wi-Fi is being used daily by tourists and schools visiting the park. Our KernHotSpot Access Points work hand in hand with the zoo app to enable hundreds of guests Wi-Fi access, to further their zoological education," Mr Kern said.
Ms Bensted says the app has transformed learning through interactive content.
"The app is a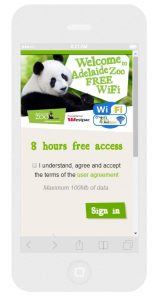 fantastic educational tool, allowing students to unlock previously unseen information and use it to learn about important animal and conservation issues," Ms Bensted said.
KernWi-Fi's continued relationship with Zoos SA is also valuable for tourism. With free Wi-Fi for up to eight hours a day, zoo goers can upload photos to social media instantly.
With over 35 thousand photos under the Adelaide Zoo hashtag on Instagram alone, it is clear visitors enjoy their visit to the zoo and are happy to promote it online.
Ms Bensted says tourists have been able to enjoy free Wi-Fi at the zoo since 2015, thanks to KernWi-Fi.
"Visitors from all over Australia and the world can visit Adelaide Zoo and enjoy Wi-Fi access and connectivity at more than 15 spots throughout the zoo including the front entrance, cafes, shops and the rotunda through to Minchin House."
"Thanks to KernWi-Fi, visitors can share their zoo experience on social media instantly and access our interactive and award winning app," Ms Bensted said.
KernWi-Fi is able to provide Wi-Fi to the over 400,000 annual visitors at Adelaide Zoo by having KernHotSpot points all around the park. After agreeing to the initial terms and conditions, the KernHotSpot's automatically pick up  the guest and connect for the best access. Mr Kern says the system is similar to how a mobile phone works, by connecting to the strongest tower or cell.
"Our system is device smart. If the guest is returning, they will no longer need to agree to log back in. We have also engineered our Wi-Fi network to also recognise any existing  KernWi-Fi customers, automatically connecting them  upon arrival at the Adelaide Zoo. This has been  a great feature for our KernWi-Fi customers, providing them  with unlimited timed Wi-Fi access," Mr Kern said.
Mr Kern says KernWi-Fi will continue to work with Adelaide Zoo in developing the Wi-Fi and hotspot internet access.
"As a major corporate partner with The Adelaide Zoo, we will  continue to work closely with them in developing our KernWi-Fi, KernHotSpot Internet Access."
During your next visit to Adelaide Zoo, enjoy free Wi-Fi and download the Zoos SA app for more information.

Shanisse Edson
Shanisse Edson: Journalist – KernWi-Fi Pty Ltd / KernHotSpot
e: shanisse.edson@kernwi-fi.com.au
Contacts:
Phil Kern – KernWi-Fi Pty Ltd / KernHotSpot
p: 7100-5432
Elaine Bensted: Zoos SA Chief Executive
How can KernHotSpot help you?
Your customers expect a reliable internet connection now more than ever, especially in large event halls or shopping malls where 3G/4G coverage can be restricted or unreliable.
Our KernHotSpot / KernWi-Fi Network already connects thousands of users daily via our gateway of local business, café's, shopping centres, clubs, pubs, hotels, motels, function centres, sporting centres, public areas just to name a few.
Our various services and products include: Wi-Fi networks, Marketing, Analytics and Mesh Networking.
Network Consulting Services
Your venue might already have internet or Wi-Fi, but does it have the correct internet or Wi-Fi to meet your needs? We can help you assess your venue's network infrastructure.
Network Design and Deployment
We will work with you in designing and deploying your network to meet your needs, regardless of the size of the event or venue. We take everything into consideration including, multiple secure isolated network points for your staff, electronic devices such as EFTPOS and guest access. Have your own branded splash page. Offer user's free time or paid time usage or a combination.
Detailed Reporting
We provide live reporting to show you how many devices and clients are connected, types of devices connected, the most popular areas for connection within the venue and more.
Dedicated Bandwidth
Dedicated bandwidth to run multiple access points without performance degradation.
Onsite Support
We provide on-site support staff during your event.
Security
We provide secure networks for total isolation between your corporate network and guest network.
OUR CLIENTS
We work with companies of all sizes. Each customer, no matter how big or small, is of equal importance to us.